Our Innovations
Everyone's a problem-solver at Victoria Hospital
Victoria General Hospital (VGH) offers no shortage of staff-led innovations and practices in place to improve patient care. From the Geri-Rehab unit, which has developed a colour-coded whiteboard to ensure their whole team is up-to-date on each patient's status, while still maintaining patient confidentiality; to the Urgent Care team who have collaborated across all disciplines to maximize the use of their space. Each innovation has the effect of empowering and engaging staff to bring forward their ideas to improve their work and make the hospital experience a bit easier on patients and families.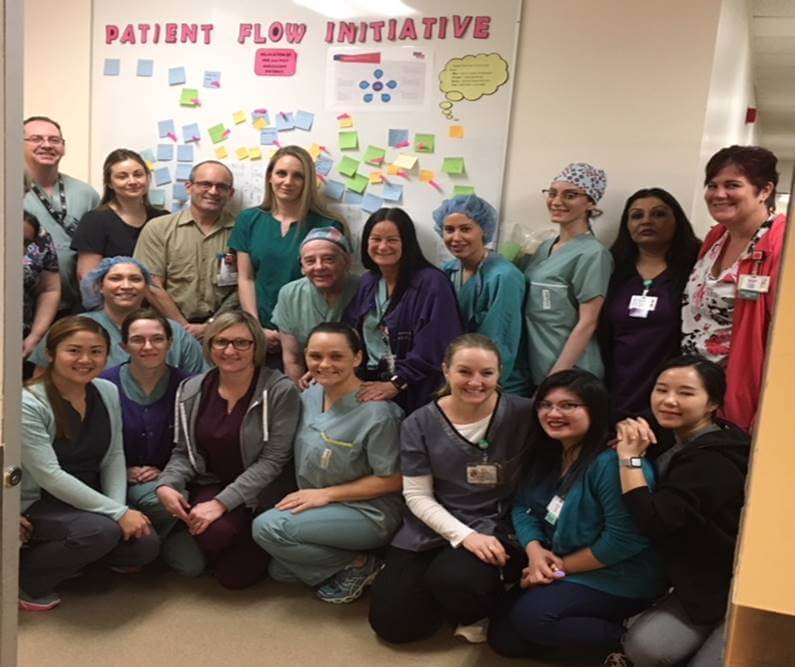 One particular source of pride for VGH's team is the work done this past year by the staff in their Day Surgery Unit.
The Winnipeg Regional Health Authority, which runs VGH, recently underwent a massive transformation which changed the care models of some of the hospitals across the city. Fortunately, Day Surgery staff at VGH were up to the challenge to find ways to continue to provide VGH's signature excellent care to a larger number of short-stay surgical patients than ever before – all within the existing Day Surgery space! One tool they implemented, and continue to use, that has bolstered their success is their Patient Flow Initiative Board.
The board is located in a high-traffic staff hallway that allows for maximum visibility among every member of the surgical team. Using a call and response format that identifies concerns or "storm clouds" (using a blue post-it) and allows other staff to respond to those clouds using "rays of sunshine" (yellow and green post-its) the board serves to identify specific challenges for staff but is process-focused.
The board contains contributions and solutions from every member of the care team from housekeepers to porters to nurses to managers and is applied with the common objective in mind: to provide the best possible care to day-surgery patients and to offer as many treatments as safely possible each day.
"Using the whiteboard to communicate our ideas has been very popular and appreciated by the staff", says Elaine, a Day Surgery nurse at VGH. "We've used this tool to facilitate patient flow, and it has been especially helpful now, with additional precautions in place because of COVID-19, as well as on days when we have higher volumes of cystoscopies and local anesthetic clinics."
The board has served not only to offer team-based solutions to specific concerns on the unit, it has helped to further bring the day-surgery team together and reinforce a sense of support and respect among all members of the team.