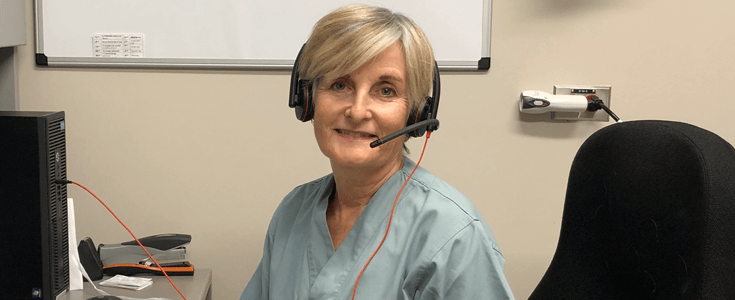 Karen Nelson, RN BN
Perioperative Nurse Clinician, Victoria General Hospital
Karen Nelson is a perioperative nurse clinician in the Pre-Anesthesia Clinic at Victoria General Hospital. She is such an integral part of our surgical team, supporting the entire surgery program each and every day. Karen starts her days in the OR, setting up and checking anesthesia machines and equipment and ensuring appropriate supplies are in place. She assists with intubations, IV insertions and ECTs and liaises daily with Pharmacy to stock OR medications. She is available anytime to support anesthesia and the OR nurses – just ask and she will be there to support any needs. Karen anticipates difficult or unusual situations and not only communicates, but also assists with these needs in the OR, PACU, Day Surgery and Short Stay areas.
In the PAC Clinic, Karen liaises with anesthesia, surgeons, specialty medicine and primary care providers to obtain the best possible medical history, assesses suitability for surgery and coordinate safe patient care both pre- and post-operatively.
She connects with the Manitoba Renal Program and community pharmacies, to name a few, to ensure seamless transitions between sectors to optimize patient care. She spends countless hours bridging patients on blood thinners preoperatively for successful surgery, following up regularly with patients to make sure that instructions are clearly understood.
Recently, Karen has been instrumental in implementing virtual visits for PAC appointments. Most patients are now seen virtually either by Microsoft Teams or phone call, eliminating the need for many patients to travel for their assessment and reducing the number of patient visits to our facility during COVID. She was an early adopter of this new technology and has helped to implement for both anesthesiologists and the entire PAC team, allowing for the visual assessment of airways and other physical findings virtually.
Karen is an incredible communicator with patients and families, physicians, community services and the entire interprofessional surgical team, providing a wealth of expertise. She is a true team player, anticipating the needs of the patient and the surgical team to optimize patient outcomes. Karen always puts patient safety first and delivers truly patient-centered care while supporting the entire surgery program. We are so lucky to have Karen as part of our Surgery Team at VGH!