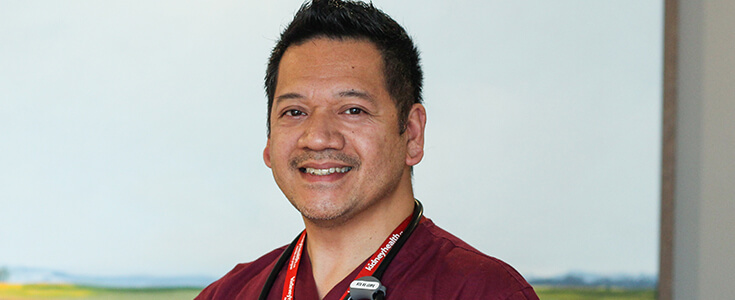 Randy – St. Boniface Hospital (Hemodialysis)
I consider nursing a calling rather than a job. What I love most about being a nurse is the meaningful, trusting relationships I've formed with my clients. My clients come in often, between three to six times per week, so I am fortunate enough to build relationships with them that extend beyond providing them care. I have the privilege of learning their life stories; where they work/worked, their favourite hobbies, their treatment preferences, etc. I look forward to building these relationships and making new ones.
I also enjoy the feeling of being a part of their "kidney" journey after one of my clients receives a transplant. A favourite quote I use at work is "teamwork makes the dream work." I feel that it is important to collaborate with the whole multidisciplinary team, including the client, in order to achieve the best possible outcomes for the client.