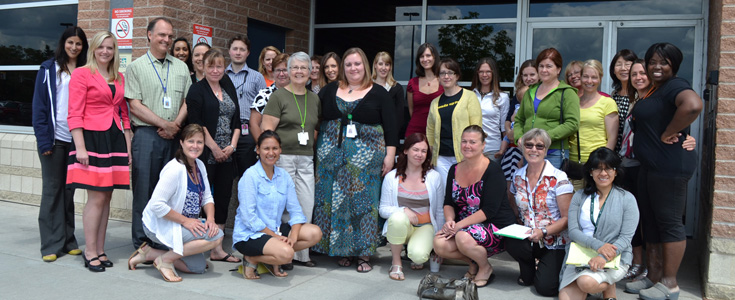 Accessible ACCESS Care
One might call it a 'buffet' of health and social services.
At ACCESS River East, (ARE) a person with a new diagnosis such as diabetes may be referred to:  a shared care counsellor to assist with some depression related to the new diagnosis; a nurse to assist with glucose monitoring and self management; a dietitian to assist with changes in meal planning and a physician or nurse practitioner to provide other clinical management such as ongoing assessment and care planning. All of these health care professionals located under one roof communicate and coordinate a care plan with the customer, rather, the patient or client, that is comprehensive and coordinated and focuses on their physical and psychological needs.
The team of health and social service professionals at ARE works together to coordinate, not duplicate, each others work to better to support the individual. Each team member provides a consistent message to the individual. The team's goal is to assist the person to meet their health goals.
Four full time primary care (PC) nurses at the clinic play a key role in case management as many of the PC providers (doctors and nurse practitioners, for example) are part time. This is a departure from traditional, physician-led primary care. There are also physicians (5 EFT), nurse practitioners (2 EFT), a shared care psychiatrist (0.1), a shared care counsellor, midwives (6 EFT), a speech language pathologist, a dietitian, an audiologist and administrative support. With the inclusion of the Hospital Home Team - which supports citizens with complex care issues stay in their homes -    a social worker has recently joined the team to support case management. ACCESS River East's plan is to add an occupational therapist and/or kinesiologist who can collaborate with other ARE team members involved with home care, mental health, health and social services support.
"We address patient needs in patient centred ways. What are the patient's goals? That's what we work to do as a health care team - support patient goals," says Mihalchuk. "We see patients in the same way - their needs are to be met. We don't see doctors as the only people able to meet patient needs."
Everyone's ideas and expertise are valued  at ARE. Each person has an important role to play in contributing to not only making the clinic run well, but to building health and wellness in the community. That's why everyone has a voice at weekly staff meetings - which often include food - and in addition to a theme song, the team also has a playlist everyone's agreed to that inspires and motivates the team, building on the collaboration.
This respectful, collaborative working environment makes people want to come to work for the chance to actually work to their full scope of practice. It's no surprise that many staff at the primary care clinic have been there for five years or longer - work is fun and rewarding.
Co-location, the physical layout of the space and co-management of staff and physicians  help contribute to creating a collaborative environment, says Lisa Ziolkoski, Team Manager PC, Elmwood Teen Clinic and HHT at ARE. "It's about building capacity. We try not to own everything, from encouraging client self care to staff development," she says of the way the group addresses scope of practice overlap.
Not being turf protective means every health provider can offer their perspective to improve health outcomes.
Working collaboratively also means building capacity with the people who access health services at the clinic, many of whom have complicated mental health concerns. How the staff at ARE include them in the conversation and decisions to be made about their health and wellness impacts if and how they use services elsewhere. In many cases, this means reduced emergency room visits thanks to the strong relationships built with their PC providers.