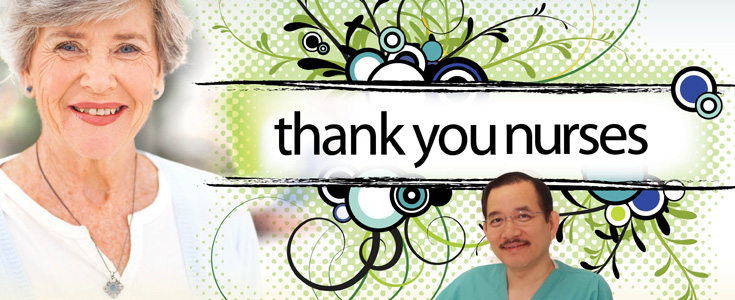 Happy National Nursing Week! This annual celebration of the nursing profession and contribution starts this year with Florence Nightingale's birthday - May 12th- May 18th, 2014.
"Let whoever is in charge keep this simple question in her [their] head - How can I provide for the right thing to be always done?"

Florence Nightingale
The Canadian Nurses Association theme is nursing: a leading force for change. For all the ways you are a leading force for change, for the ways you help improve the health and wellness of individuals and this community, thank you. Your contribution to health in this province is an important one. Your nursing perspective is an important element in building health and wellness. And your critical thinking, creativity and commitment are really appreciated.
To thank nurses in the Winnipeg Health Region, we've created a special video. We've spent the past few months photographing nurses in action in a variety of capacities - community, acute care, long term care, research and administration. This video is a compilation of you and your nursing colleagues, a celebration of the elements of your work that touches lives each and every day. I'm grateful for your contribution to nursing in the Winnipeg Health Region:
Nursing: a leading force for change . . . how do we translate this theme into our various type of nursing practice? How can we as nurses in the health system ensure that our professional input brings value and promotes the overall health of the people we serve?
During the week that we celebrate our profession, I invite you to consider the impact of your own practice and what you do as a nurse. In my mind, there are two key areas where nurses in all practice settings can be a leading force for making change: professional accountability and health promotion.
Nurses are known for extensive, holistic assessments. However, I encourage you to think about what it is we do with that information and how we best help positively influence a person's health and wellness.
Let's consider a pretty common example of ensuring that a person has their prescription as a part of the discharge plan. It starts with asking a simple question and could end with ticking off the box that says "yes" on the discharge checklist. But does this really answer the question and ensure that the person has the information and ability to manage their medications after discharge?
No. Simply having the piece of paper in hand does not mean that they have the knowledge and ability to use the medication to manage their health concerns. It means we need to try to slide into that person's shoes for a moment and ask a few more questions.
Questions like: Can they get to the pharmacy? Can they pay for their medications? Do they understand why they need to take the medications? Do they know how this new prescription fits into their existing drug regime at home?
 
These questions may uncover some issues or a lack of knowledge and often will open the door for the person to feel more comfortable expressing other concerns about discharge. Nurses are expert problem-solvers and can often provide the information that helps to ensure a successful discharge, but we never work in isolation. These questions may identify the need to engage other members of the intraprofessional team such as the pharmacist or the social worker to ensure the health needs of the individual are met.
Why is that so important? Because being accountable and responsible to the people we're caring for means being a resource for their health and wellness. Nurses rarely function in isolation and we rely on the team of health professionals that we work with, but because of our frequent contact with the people we serve, we are often that point person for questions. We can't possibly have all the answers but imagine the different feelings the following two responses might generate: "I don't know" or "I don't know but let me see what I can find out".
The first will only increase the frustration, while the second answer continues a conversation. It sets up a relationship between a nurse and the person asking the question. It also very clearly demonstrates a nurse's accountability to the person asking the question. It communicates that as a nurse we are taking responsibility for what to do. And sends key messages like, "I care. I am interested in you. I am accessible to you."
The difference in these two responses is what it means to be a nurse. It is why the general public trusts nurses and perceive the nursing role is one that can be relied upon, consistently.
The health system alone cannot change or improve the health of Canadians but we can engage people in improving their own health. Nurses have an important role to play in supporting people to manage their health. And we can work with people and provide them with the knowledge, skills, ability or supports to manage their health and wellness.
That requires nurses to be present and flexible with each person we work with. It also requires us to recognize that we need to reconcile the health goals we have for people with the goals they have for their own health. This sometimes requires compromise.
If that thought makes you uncomfortable, let's consider the example of a person with diabetes and helping them to manage their blood glucose control. There is a lot of evidence and materials available that tell us how to maximize this control, including the importance of diet and exercise. Many people with diabetes are able to incorporate these best practices into their lifestyles but for some this is a significant challenge.
For these individuals, the trick for us is to understand their needs within the context of their situation and find ways to incorporate that into the treatment plan. Paying attention to Mr Jones and what he's telling us means that if he says he likes to eat chocolate pie once a month, we need to find a way to incorporate this into the plan. Rather than focusing on non-compliance, we need to encourage and support the best compliance we can. The combination of listening to what a person is really telling us with the nursing professional knowledge, skills and judgement is what truly helps people improve their health.
Being a leading force for change means that as nurses we must step up to moment of leadership and advocate for the things that need to change. This can happen both formally and informally. When such a moment arises for you to take the initiative to advocate for a person and their family, I hope you seize it. I hope you step up to the challenge and use the chance to change the circumstances or supports that can help improve a person's health. Sometimes that leadership and advocacy means engaging other health care providers to collaborate. It always involves listening to the person.
I remember hearing the story of a woman who was required to come for a series of appointments to investigate and treat her illness. The woman frequently missed these appointments and the health care team was very concerned that she was jeopardizing her health and they were frustrated.
It took some time for someone to ask her why she wasn't coming to her appointments. What they discovered is that she was concerned about her health but her life circumstances made it nearly impossible to make scheduled appointments. She was a single parent with three small children and it required a one hour bus ride just to get to the appointment. So every appointment required much more than the simple appointment time. When she could not arrange child care, the choice was to bring the kids with her or not show up.
Having this information - or even asking it in the first place - would have put health care providers in a position to make it easier to support her in health. It would have opened a conversation about barriers or challenges that this woman was faced with. It would have provided a clearer picture of her circumstances, or the type of support she needed and it would have offered the team the chance to tailor their practice to meet this woman's needs.
This is truly person-centred care: considering how we can help an individual to manage their health themselves or provide them with the referrals they need to help them.
It's one thing to consider this when a person is in our facilities and our care. But considering how we can support them in health when they return home is also part of the picture. Does a person have the skills and abilities to manage their health at home? If not, how can we as nurses support them in health? Is there someone we need to involve to be a part of the conversation? Is there a resource to refer the person to?
Many nurses incorporate these challenges into their practice every day and I offer you my thanks, admiration and support. I encourage you to share these approaches with your nursing colleagues and discuss how you can best support each other in taking your practice in these dynamic and powerful directions.
If you're struggling with approaching your practice from this perspective, consider a nurse you know or practice with whom approaches their work from this perspective. Think about how you could practice with more professional responsibility and really make a difference. Are there some additional things you should be asking about in the course of delivering care? Is there an element you'd like to weave into your practice that would help improve your relationships with the people you're caring for?
I want to hear about how you incorporate these concepts into your practice. If you have something that's working that you would like to share with your nursing colleagues, email me at wrha_nursing@wrha.mb.ca. If you've had an "a ha" moment when trying to build the strength of your practice, please share it.