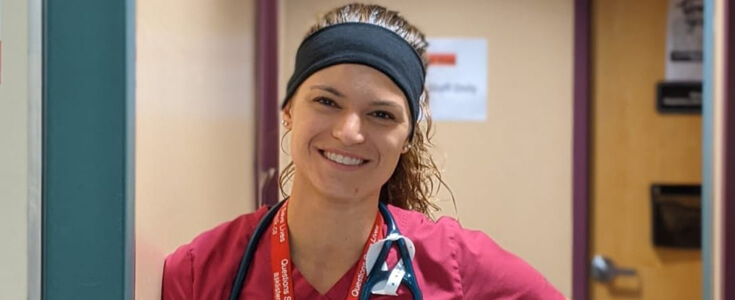 Andrea Toews, RNBN
Intensive Care Unit – St. Boniface Hospital
Master's in Nursing Student, University of Manitoba
As nurses we hold the unique position to care for individuals in some of their lowest moments. Given the uncertainties of this year, strong teamwork and support have been essential. The critical care team is working to make these tough times more manageable for patients and their families wherever we can.
Seeing our patients succeed and begin the road to recovery is one of the best feelings as a nurse. What gives my job meaning are the connections I've developed, and brief moments shared, with patients/families that can have a great impact on their care. Humbly, I learn so much from my patients too.
I once asked an elderly patient, "What is the meaning of life?" He replied, "Right here. Right now, with you." I am grateful for the opportunity, and the privilege, of being able to provide care for my community.