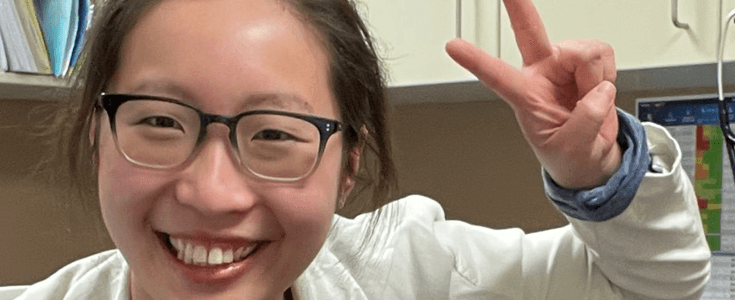 Chao-Yu Hu
Undergraduate Nurse Employee (UNE)
Internal Medicine, St. Boniface Hospital
As an undergraduate nurse employee (UNE) currently working in Internal Medicine at St. Boniface Hospital, Chao-Yu Hu is essentially getting paid to learn. She is a part of an interprofessional team providing direct bedside care, as well as safe medication administration and documentation. She also does her part to improve communications between the clinical team, patients, and their loved ones.
It's a role she doesn't take for granted.
"I always feel privileged to look after patients and their families," she says. "Every time I step into the room, besides caring for their physiological well-being, I like to know my patients as people, and to learn about their life stories. I thank them each time for being patient with me while I perform my assessments. I acknowledge their dignity and privacy by putting myself into their shoes. I never take a 'yes' or 'go ahead' from patients as my right, and I feel privileged that I have an opportunity to know and care for them at their most vulnerable times."
Chao-Yu says that her duties come with their fair share of highs and lows.
"There are good days and bad days," she says. "As a UNE, I often witness how hard staff are working, or when patient conditions are challenging. I embrace these challenges by working as part of a team with my colleagues, by seeking assistances as needed, and by offering assistance when I am able. This position has taught me that asking for help, or asking questions about interventions is not a sign of weakness, but a demonstration of how much we care about the quality of the practices that ultimately affect our patients."
All things considered, Chao-Yu is quick to recommend a UNE position to nursing undergraduates.
"The amount of autonomy and opportunities that the UNE offers for a nursing student are incredible," she says. "This is where I truly experience and see my lecture knowledge come alive. The frequent communication and the necessity of advocating for patients gives me an opportunity to build confidence when speaking with colleagues and allows me to learn more about the scopes of practices of each team member. I am often amazed by how much I transfer what I learn from work to my real-life situations."
The UNE experience is also a good match for one of her core outlooks on life.
"'Never stop learning' is probably one of my favorite lifetime quotes," she says. "The health-care system – from the housekeeping staff and all the way to patients, the transporters, and so on – has taught me to be humble and to pay attention to the small details. Having a supportive educator team on the unit and easy access to intranet helps UNE students like me to connect our lecture knowledge with real-life experiences, which results in safe and optimal care for our patients."
She also appreciates being able to see patient progressions throughout the care cycle.
"It's another picture I was not able to experience as much as a student. Seeing patient progression trains our critical thinking, reinforces the importance of assessments, and – most importantly, teaches us to 'trust our gut' when something just doesn't seem right. Working with patients for a few days helps me build trust and an effective therapeutic relationship. I can then ensure that I'm capturing patient preferences in during my shift reports, which results in greater continuity of care."