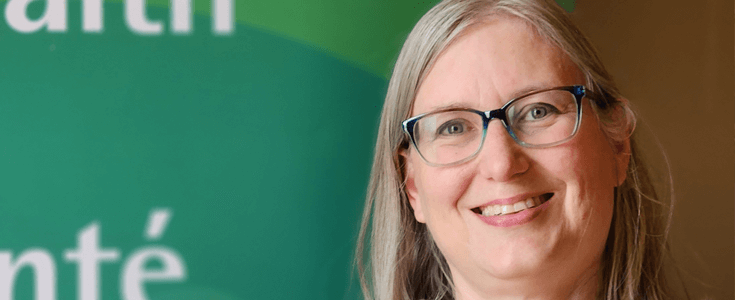 Kelly Wren
Public Health Nurse
My name is Kelly Wren and I have been working as a nurse for over 25 years, and the past 14 years have been as a public health nurse. What I love most about being a Public Health Nurse is being able to connect with individuals, families and communities and forming therapeutic, and professional relationships in a variety of settings and circumstances. No day is ever the same!
Public health work is holistic, with a focus on health promotion, early intervention, disease / illness prevention, and harm reduction across the lifespan. Whether we are working with prenatal or postpartum families or preschool or school age children, our goal in public health is to promote health equity and address the social determinants of health which greatly contribute to well-being. I truly enjoy the variety of work we do and the settings we do it in, ranging from visiting families in their homes prenatally, postpartum, and for breast feeding support, delivering childhood immunizations in schools, delivering community- based outreach, flu and COVID immunization programs, or working with the community to support community development. During the COVID-19 pandemic, we worked unimaginable hours doing case and contact tracing over the phone, in person, and some PHN's assisted Northern communities. This work included ensuring people who were required to isolate had adequate support to do so: food, alternative accommodations, resources and information.
As the work of the pandemic slowed down, we quickly shifted into delivering Public Health services at designated reception centers as part of our emergency responses to Northern flood and fire evacuations, and the evacuations for the Ukraine citizens as a result of war in the Ukraine. At our fire and flood evacuation reception centers this spring and summer, families would come and share their experience of having to evacuate at a moment's notice, not having enough time to bring anything with them, including clothing and medications, not to mention the worry about whether or not they would have a home when they returned. After their long trek to Winnipeg from Pukatawagan, they were exhausted, hungry and with the help of the Red Cross, worked to find lodging in the city. My role was to help them navigate the health system and have the supports /resources they needed to make their stay as comfortable as possible. This work included having prescriptions transferred from their hometown, booking /coordinating medical appointments which were at a premium, referrals to homecare, palliative care, or prenatal care as needed and advocating to obtain mental health support from other partners, including many working at the center.
At the Ukrainian Reception Centre, since May 2022, my public health colleagues continue to support thousands of families and individuals coming from a war-torn country who only have each other, very few possessions and are tasked with navigating settlement in a new country without understanding the language or how things work. Once again, our role in this response was to work in partnership with other service providers (with interpreters), including the Ukrainian Canadian Congress (UCC), to ensure their health and settlement needs are adequately addressed. Some of this work includes referral to medical, dental, optometry, and prenatal care services as well as immunization, mental health / general support, immigration medical exams and navigating the federal COVID-19 quarantine requirements. What I find most amazing in these responses are the people and the team I work with. The resilience, patience and gratitude they exhibit under less than ideal circumstances are admirable and the synergy of everyone's combined efforts makes our job so rewarding. Public health is uniquely positioned to work collaboratively with other partners / agencies and is broadly focused. Because of that, we are able to meet people where they are at, be flexible and responsive to their needs and advocate for what is needed. I am so proud to be doing this exceptionally rewarding work and to work with so many others who do the same every day!