Hi everyone,
Since starting 18 months ago in the role of Regional Lead, Health Services – Acute Care and Chief Nursing Officer for Winnipeg Health Region, I haven't had as many opportunities as I would have liked to communicate directly with you all. I've addressed you sporadically over the last 18 months collectively during nursing week, as well as meeting some of you in person and virtually through our 24-hour "Ask Me Anything" event in the spring.
Given all that is going on within the health care system, and how it's impacting you and your work, I want to ensure that I'm providing the information that's important to you on a regular basis, and doing my part to continue to build connection, engagement and awareness with nurses across the region.
That's why I am happy to be bringing back quarterly CNO Updates. Many of you likely remember these from before the pandemic, and I think they are a great opportunity to communicate with you directly and highlight not just key updates, but the excellent work of nurses from all our sites and sectors.
I've included a list of questions and topics that nurses have asked or brought up as something they want to know more about. Feel free to click through as you have time and read more about what's of interest to you.
And if you have any questions you'd like me to address or topics you want to see covered in future letters, you can reach out to me directly any time, or contact communications@wrha.mb.ca. #NurseVoicesMatter
Thanks,
Mary Anne
In This Issue
---
Recruitment & Retention
Whether you are new to nursing, or have been in the profession for years, it's been an incredibly difficult time for everyone. Throughout my career, there have been periods where the need for nurses has waxed and waned, but I know that it feels like the current demand for nurses is impossible to meet. And I know that while we've had periods of need before, our current situation is extremely serious – and it is being taken as such, by me and by health leadership across the system.
I also know that the events of the past few years have raised the profile of nursing, specifically its importance and positive impact on people and communities. Despite how difficult it's been, this high visibility is helping bring more new nurses into the profession. I am told that there used to be on average two applicants for every nursing seat, and today that number is up to four.
This is certainly not an overnight fix for our current situation, but it is an important part of our recruitment efforts. To meet this demand, we have worked with the Province and academic institutions to expand the number of nursing education seats available. This year, there are 828 nursing students graduating in Manitoba, many of whom will soon enter the workforce and provide additional resources across the province. Our expansion of 259 nursing education seats in Manitoba is also scheduled to begin this year – this will include 15 combined bachelor of nursing and licensed practical nursing seats at Université de Saint-Boniface, 55 licensed practical nursing seats through Assiniboine Community College in Portage la Prairie and rural rotating sites, 32 registered nursing and registered psychiatric nursing seats at Brandon University, 120 registered nursing seats at the University of Manitoba, 30 registered nursing seats at Red River College Polytechnic and 37 additional nursing seats at University College of the North.
Another promising initiative is the introduction of Undergraduate Nursing Employee (UNE) positions, through which senior nursing students can gain valuable clinical experience in a paid role that allows them to learn, develop and grow, while also encouraging them to stay with us to practice at that site or in that program area upon graduation. There were 50 UNE positions in the WRHA in winter 2021/2022, and there were an additional 92 UNE positions for spring/summer 2022, including in medicine, chronic care and surgery at St. Boniface, Grace, Seven Oaks, Victoria, Misericordia and Deer Lodge Centre. You can find more information about our UNE positions here, and meet one of our UNEs, Chao-Yu Hu, here. I wish that I had this opportunity to work and learn when I started out.
We also had 122 nursing senior practicum students for the summer, in both hospitals and health care centers including St. Boniface, Grace, Seven Oaks, Victoria, Concordia, Deer Lodge Centre, and Riverview Health Centre, as well as in Community Health programs including Public Health, Home Care, Primary Care and Palliative Care.
There is also continued focus on retention – as I have said before, keeping nurses in the health care system is also a top priority. In the recent Employee Opinion and Stay surveys, we heard that you want and need:
To work in collaborative environments where you feel respected by your colleagues, and that your knowledge and skill sets are valued and fully utilized.
Flexibility in rotations and to work at a location that's convenient for you.
The provincial Nursing Workforce Stabilization group has brought together nurse and human resource leaders who are working through what we need to have and begin to offer nurses to both recruit and retain, as well as develop and support nurses who are and continue to be successful, strong and thrive in their career. Your feedback from these surveys is helping guide those efforts, and I want to encourage you all to continue to tell us what we can do – what is working and what do you need more of to continue to support your needs.
---
Mentorship, Leadership Development & Continuing Education
Many new graduates need and want a mentor. Mentorship is key to ensuring our new nurses thrive, and we recently updated our mentorship initiative to make sure we are supporting them. It pairs our many experienced, talented and knowledgeable nurses across our system with new graduates to share their wisdom and guidance, throughout their first year and beyond. I encourage those of you with experience to consider sharing it through the important role of mentor – you can find all the necessary information about how to get involved here.
We also have many leadership and skills development opportunities to support nurses at all stages of their careers. We continue to host our WOW (What Opportunities We Share in Career Development) Wednesday speaker series on a monthly basis, where we feature sessions with nurses from different sectors and types of jobs across the province. We also have a speaker series focused on leadership development, which features senior leaders from across the system. You can find more information here, and there is a Leadership Development Guide available here. Nurses are born leaders and I would encourage you to think about the role of leadership in nursing.
The beauty of nursing as a profession is that there are so many opportunities and directions you can take your career. I'd like to encourage anyone with an interest in pursuing further education – for example, if you are an LPN and want to become an RN, or if you are an RN and want to pursue your Masters of Nursing – to strongly consider it, and to talk to your manager about how we can support you.
---
Nursing Colleges & Associations
All nurses in Manitoba, including Registered Nurses, Nurse Practitioners, Registered Psychiatric Nurses and Licensed Practical Nurses, are governed by regulatory bodies. While these bodies are important to protect patients, clients and residents and ensure consistent practices from nurses across the system, they are also a lot of resources for nurses on scope of practice and nursing practice available through these organizations. The full list of Manitoba nursing regulatory bodies includes:
If you're not familiar with the resources available through your respective college, take a few moments to look through their website to find more information.
---
MNU Collective Agreement
As you are all likely aware, we recently ratified a new Collective Agreement with the Manitoba Nurses Union. I encourage you to review it if you've not had the chance – you can find the full details on the MNU website.
---
Flu Campaign
Manitoba Health, Shared Health and WRHA, along with other RHAs across the province, will be launching this year's flu campaign in the coming weeks. I want to extend my thanks to those of you who will be involved in supporting our flu clinics. You can find information on staff flu clinics here. There are also updated poster and handbill templates available on Insite to use to share information with patients and clients about upcoming public clinics.
I also want to take this opportunity to stress the importance of immunization. The fall is upon us and respiratory virus increases in our community during this time, and we need to continue to stay strong and protect ourselves, our loved ones and those we care for. #staystrong #layerupyourprotection.
---
In the Spotlight – Kelly Wren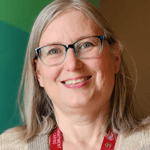 My name is Kelly Wren and I have been working as a nurse for over 25 years, and the past 14 years have been as a public health nurse. What I love most about being a Public Health Nurse is being able to connect with individuals, families and communities and forming therapeutic, and professional relationships in a variety of settings and circumstances. No day is ever the same!
Public health work is holistic, with a focus on health promotion, early intervention, disease / illness prevention, and harm reduction across the lifespan. Whether we are working with prenatal or postpartum families or preschool or school age children, our goal in public health is to promote health equity and address the social determinants of health which greatly contribute to well-being. I truly enjoy the variety of work we do and the settings we do it in, ranging from visiting families in their homes prenatally, postpartum, and for breast feeding support, delivering childhood immunizations in schools, delivering community- based outreach, flu and COVID immunization programs, or working with the community to support community development. During the COVID-19 pandemic, we worked unimaginable hours doing case and contact tracing over the phone, in person, and some PHN's assisted Northern communities. This work included ensuring people who were required to isolate had adequate support to do so: food, alternative accommodations, resources and information.
Read Kelly's full profile here.
---
Webinar October 17
On Monday, October 17, from 12:00 p.m. to 1:00 p.m. ET, Francis Masa, VP of Mission, Ethics and Spirituality for Providence Health Care will be presenting the webinar "From Moral Distress to Moral Imagination."
Anyone interested in attending can find more information and register here.
Once again, if you have thoughts, ideas, or things you want to know, I want to hear from you. Please email communications@wrha.mb.ca any time.